A west London council will vote on whether it will become the first in the country to create a buffer zone outside an abortion clinic to prevent patients from intimidation.
Ealing Council has been exploring a range of options on how to prevent "intimidation, harassment and distress" for women using the Marie Stopes clinic on Mattock Lane following a petition set up by local women.
Among the high-profile backers is the Mayor of London Sadiq Khan, who said "behaviour that seeks to deliberately target women for harassment and intimidation should not be tolerated".
A log book of entries by patients and staff catalogues some of the encounters which John Hansen Brevetti, clinical operations manager, said had been happening over three decades.
One entry read: "Police called due to aggressive protester a very upset client. Police attended had conversation with protester."
One patient was asked "Are you sure you want to kill your baby?" as she was trying to enter the centre, while another was shown plastic 10-week-old foetuses.
Another woman wrote: "I felt very traumatised seeing photos of babies' embryos outside of this clinic. The lady outside will not remove the photos and would not listen to my complaint.
"If there is any way you can remove these people/group from standing outside please make it happen. This is unacceptable and wrong."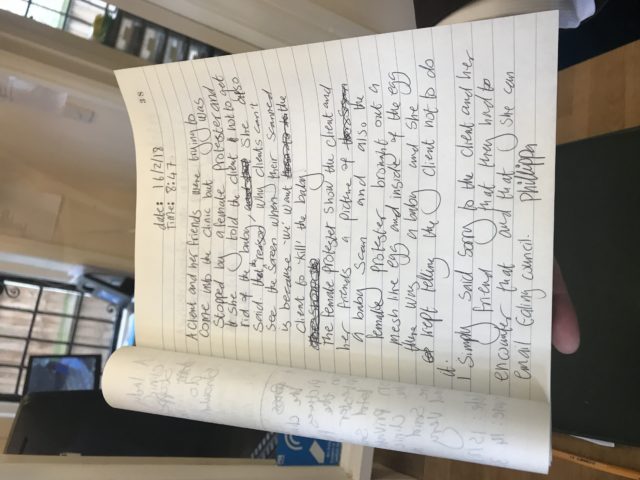 Councillors will look at the results of the consultation and decide whether to implement a public spaces protection order (PSPO) on Tuesday evening.
If they do so, it could come into force immediately, with those breaching its conditions liable to be fined or prosecuted.
Mr Hansen-Brevetti said "pavement counsellors" were outside the clinic every day, approaching every client on the way in and out.
He said: "That's how we know that this isn't just about providing information, however inaccurate that information might be, this is about making people feel shame and fear for the decision they've made.
"People come into our consultation rooms crying and shaking, sometimes we have to wait to take their blood pressure because they're so anxious having been through that."
Alithea Williams from the Society for the Protection of Unborn Children (SPUC) said there was "no motive or reason" for those protesting to be intimidating, and that implementing a safe zone would be "authoritarian".
She said: "We think it would be a very dark day if Ealing Council does bring this PSPO in. What we are talking about is stopping peaceful, prayerful people from offering help to women outside clinics."
Ms Williams, who said she had not personally been outside the clinic, added: "If people were genuinely being intimidated then of course we would want to condemn that, but there are laws in place about harassment and intimidation and nobody has been arrested at these sites."
SPUC would support any legal challenge to the PSPO if voted through, she said.
The clinic provides around 7,000 medical and surgical abortions a year.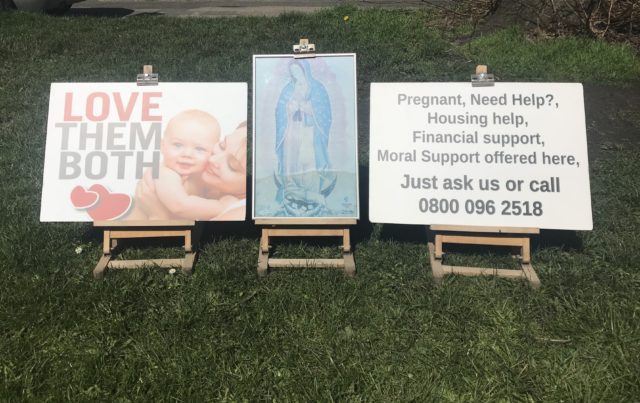 One of two men protesting outside on Thursday, handing out pink and blue rosary beads and leaflets, refused to be interviewed or photographed.
Pictures placed at intervals on the pavement outside the clinic showed the development of a foetus from six weeks to birth, while a poster of a mother and baby next to the words 'Love them both' was opposite the entrance.
Anna Veglio-White, a co-founder of SisterSupporter, said the fact there had been no arrests was a "huge signifer" that change was needed as harassment law was clearly not sufficient.
The group of counter protesters has been coming to the clinic every Saturday since Easter last year to try to create a "human shield" to protect the women.
The 25-year-old said she had seen protesters misdirect women away from the clinic so they miss their appointments, and afterwards follow them to their cars and try to jam leaflets through the windows.
She said: "It's all under this veil of 'we care about women' … and it's a really dangerous narrative because you can kind of think 'oh they're just trying to help women' and it's not.
"The very core of this is that they do not believe in abortion and by any means necessary they want every single person coming through to keep that child, no matter what the circumstances."
Student Hatty Grimes, who lives next door to the clinic, said she had been targeted by the 'intimidating' demonstrators and had graphic leaflets posted through her door.
While supportive of the zone, the film production student, 20, said it should be extended to cover the nearby doctors' surgery which has a sexual health clinic.
She said: "They will stand on either side of the gateway, and then as people go forward one of them will step forward and one of them will step into the gap. So there's several of them you have to get past.
"It became very clear, if we saw someone going in we'd tell them to use the gravel entrance where people park."
The Metropolitan Police did not say how many times the force had been called to the clinic or whether any arrests had been made.