The Duke of Cambridge has highlighted the work of a mental health charity and the emergency services during a visit to Belfast.
The Duke of Cambridge has arrived in Northern Ireland to officially visit the city of Belfast. pic.twitter.com/sb3MYEyWeZ

— Kensington Palace (@KensingtonRoyal) October 4, 2017
William's afternoon of engagements in the city took in the Inspire charity and later saw him observe search and rescue training on the River Lagan.
The Duchess of Cambridge, who is pregnant with the couple's third child, did not accompany her husband on the trip to Northern Ireland.
During his visit to the Inspire social enterprise in the city centre he met mental health counsellors and service users before officially opening the charity's new offices.
Duke of Cambridge discusses mental health issues with school children on visit to Inspire charity in Belfast. pic.twitter.com/ny9T9FxwwK

— David Young (@DavidYoungPA) October 4, 2017
He was presented with two paintings by world-renowned children's illustrator Oliver Jeffers – one for Prince George and the other for Princess Charlotte.
Mr Jeffers' brother Rory, the artistic director of the best-selling picture books, works with Inspire on projects that use art and creativity to help people express their feelings.
Signed paintings by illustrator @OliverJeffers – complete w/ George + Charlotte sketches – to be given to Duke of Cambridge on Belfast visit pic.twitter.com/iwSNqutcVw

— David Young (@DavidYoungPA) October 4, 2017
"Someone with his presence and reputation taking such an interest really raises the value," said Rory of William's visit.
"There is still this feeling that there is a real stigma around mental health and we don't talk about it and that's something that he could help change, which would be excellent."
One of those the Duke spoke to was former Manchester United player Pat McGibbon, whose brother Philip took his own life in 1993.
Mr McGibbon now runs a football programme in Co Armagh aimed at building mental resilience through team sport.
The Duke is introduced to another group who work closely with @InspireWBGroup and help young people develop resilience in sport. pic.twitter.com/JEBy9jmqRV

— Kensington Palace (@KensingtonRoyal) October 4, 2017
William paused to hear about the initiative from a number of young footballers involved.
Mr McGibbon, a product of Sir Alex Ferguson's fabled youth system, was impressed with the Duke's passion for the subject.
"It's very important to him and I can totally understand that," he said.
"He was very personable in everything he said and it was great for him to give up that time and interact with the adults and the kids."
The Duke also chatted with pupils from Our Lady and St Patrick's College in Belfast. They have developed a student-led project to help raise awareness about mental health issues within the school community.
These students have worked with @InspireWBGroup on their anti-stigma campaign 'Change Your Mind' and tell The Duke about the project. pic.twitter.com/bp41z8tUTA

— Kensington Palace (@KensingtonRoyal) October 4, 2017
Year 13 student Niamh Mallaghan, 16, was impressed by the royal visitor.
"I was very nervous but he was interested in what we were doing and he seemed just really chilled about it all," she said.
"He was asking us questions and he really wanted to know how we were improving mental health in our school and reducing the stigma."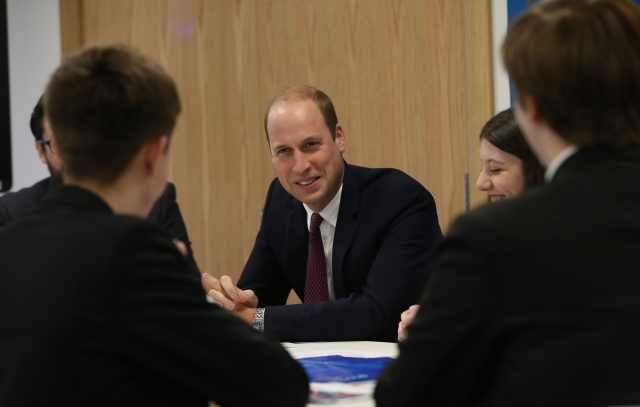 (Niall Carson/PA)
Her teacher Nicola McCarry said the Duke took a real interest in what the children had to say.
"He asked would this project be across all schools in Northern Ireland, and while there are pockets of very good practice there, I suppose mental health being completely embedded into the curriculum is still a box we have to tick," she said.
"But he said this is where it starts really. He was very interested in what the young people had to say and their views."
Prince William on walkabout in city centre. pic.twitter.com/eKTOSBpm5r

— David Young (@DavidYoungPA) October 4, 2017
After his visit to Inspire, William went on a short walkabout among flag waving well-wishers who had braved the rain to catch a glimpse of the him in the city centre.