Two men are being hunted after a teenager was stabbed in a "violent and sustained attack" outside a pub in west London.
The 18-year-old suffered life-threatening injuries and remains in a serious condition following the assault outside the Music Box in Bourne Avenue, Hayes, on Friday.
CCTV shows the pair of suspects walk past the victim, pause, then start punching and slashing at him.
Police were called at 10.39pm to reports of an "attempted murder".
The victim was stabbed in the back, puncturing his kidney, liver, a major artery and lung, and also suffered a bone-deep wound to his arm.
One suspect was wearing light trousers and a grey hooded top, and the other is described as white, with short dark hair and wearing dark trousers with a darker top.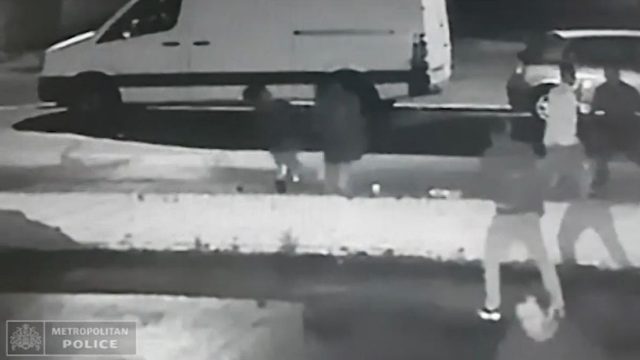 Detective Constable Emma Brookes, from Hillingdon CID, said: "We are keen to identify the men in the CCTV footage who appear to attack the victim in a violent and sustained attack.
"We would also urge anyone who witnessed the incident to contact us."
No arrests have been made and inquiries continue.
Anyone with information is urged to call police on 101 or ring Crimestoppers anonymously on 0800 555111.